We are Exporters of the following Items: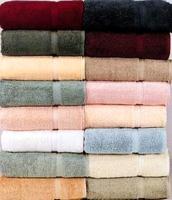 1. COTTON WOVEN FABRICS
2. BLENDED WOVEN FABRICS
3. KNITTED FABRICS
4. T-SHIRTS, POLO SHIRTS,
5. BED LINEN, BEDSHEETS, PILLOW COVERS, BEDSETS 6. KNITTED TERRY/JERSEY FITTED SHEET & SHEET SETS.
7. TERRY TOWELS, BEACH TOWELS, BATH TOWELS, HAND TOWELS, FACE TOWELS, BAR MOPS
8. TERRY BATHROBES
9. WAFFLE BATHROBES
10. KITCHEN TOWELS
11. APRONS
12. NAPKINS
13. THERMAL BLANKETS
14. HOUSEHOLD TEXTILES
15. COTTON WASTE - FOR MUSHROOM, LIKRAIN, SHODDY, CARD FILTER, COMBER NOIL.
16. POLYESTER WASTE
17. HOSIERY CLIPS.
18. PET BOTTLE FLAKES/SCRAP
19. TEXTILE WASTE
20. FRESH AND DRY PAKISTANI DATES
21. REMELTED LEAD INGOTS AND SOWS
22. EDIBLE ROCK SALTS
23. ROCK SALT LAMPS
24. BUTYL INNER TUBE SCRAP
25. WHEAT STRAW.
We therefore invite your most valuable inquiries giving us full particulars of your present requirements to enable us to send you our most competitive quotations and samples.

Our Terms of Business include the Confirmed, Irrevocable and easily negotiable Letter of Credit drawn at sight for 100% Invoice value allowing Part shipment.


Besides above we also undertake Exports of Remelted Lead Ingots and Sows having Lead (Pb) purity varying from 95% to 99%. The weight of each Ingots and Sows will be from 25 Kgs to 30 Kgs. About 25 M.Ton loose per 20' Container.

We are Importers and Indenters of the following Items:

1. Completely drained and dry used Battery Scraps as per ISRI code RAINS. The used Batteries should be of Truck, Car, Bus and Tractors. It should NOT be of auto Rixas, Bikes, Motor Cycles or Scooters. More than 90% used Batteries should be of White color and rest quantity of Black color.

2. Lead Plate Scraps as per ISRI code RAILS. Our requirements are for Lead Cells (Plates) only which are inside the Whole Batteries. We do not require Battery Plastic Case.

3. UPVC PLASTIC SCRAP IN SHAPE OF DOORS AND WINDOWS PROFILES CUTTINGS IN LENGTH OF LESS THAN 90 CM. THE COLOR OF THIS SCRAP SHOULD BE WHITE.

4. Used A/c and Fridge Compressor Scraps.

5. CNG Cylinders.

We therefore request you to please let us have your most competitive CNF KARACHI quotations per M.Ton for our Buyers evaluation and approval as well as send us Photographs of the respective items as attachment with you email offer.

The complete details of our firms are as under:
NAKHUDA INTERNATIONAL
C-7, Bab-e-Rehmat, 3rd Floor,
Gulshan-e-Iqbal, Block 13-B,
KARACHI-75300
PAKISTAN

TEL: 92-21-34982565
MOBILE: 92-313-2392477

URL: http://nakhuda.diytrade.com
http://www.nakhuda.synthasite.com
CONTACT US: [email protected]
WE WANT TO EXPORT
THE PHOTOGRAPHS OF ITEMS OF OUR EXPORTS:
WE WANT TO IMPORT
THE PHOTOGRAPHS OF ITEMS OF OUR IMPORTS:
Copyright © 2009 Nakhuda International. All Rights Reserved